After the RC2 Forum: Planning action on Future Trends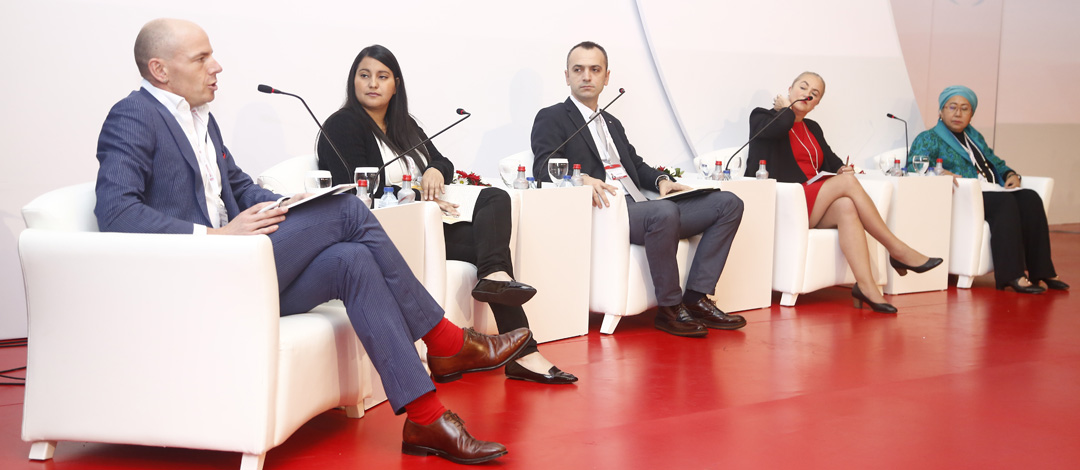 The Council of Delegates got underway on 10 November with a lively panel item that brought the imaginative discussions from the previous day's successful RC2 Forum into the Plenary for further debate.
Moderator Christoph von Toggenburg, head of social engagement at the World Economic Forum, asked panellists Bessy Valle (Honduras Red Cross), Alper Kucuk (Turkish Red Crescent), Dr Jemilah Mahmood (IFRC), and Dr Helen Durham (ICRC) to explore the outcomes of the RC2 Forum.
The discussion involved reflections on the future of volunteering, the question of trust, and how to engage with communities. Each panellist was asked to make a wish for what they want to see happen within the Movement in the next five years.
Dr Durham said: "We have to genuinely and painfully struggle with the issue of diversity in the Movement. We can be really strong, especially on issues like migration and violence, if we capture our own experiences."
Dr Mahmood told the Council of Delegates: "We really need to embrace change, build trust, and have courage to recognise that we do have some of the solutions and we do have the power of humanity within the Movement."
Children should be a greater focus of our work, said Mr Yorulmaz, adding: "We should also review our partnerships and cooperate with each other to create more sincere partnerships."
Ms Valle directed her wish at the crowd: "When we talk about volunteers and youth and how important they are, we should empower them and listen to them. We must keep our ears and eyes open, because they are our hands and they are our strength."
Council of Delegates approves progress in SMCC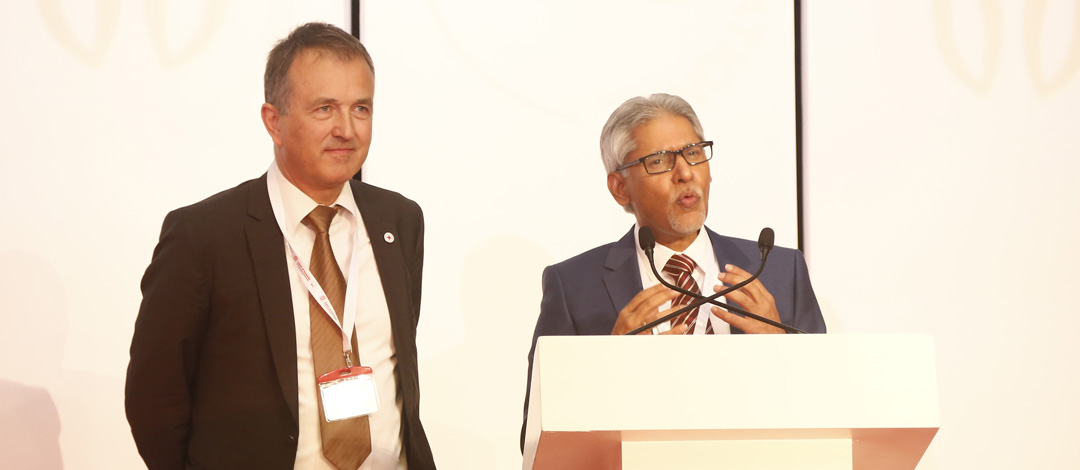 A new Resolution on Strengthening Movement Coordination and Cooperation has been approved by delegates.
Introducing the item in Plenary, Jagan Chapagain, IFRC Under Secretary General for Programmes and Operations, told the Council of Delegates that significant changes in the humanitarian landscape were expected. The Movement must combine its energies, resources and capacities to respond better. "SMCC is not about the process – it's about the people in need," he noted.
Balthasar Staehelin, Deputy Director-General of ICRC, added that while Movement component teams wanted to work together, the various systems and concepts were often not compatible. "This process will help us work together with less pain at the technical level," he told delegates.
Several National Societies took the floor to note their support of SMCC and its potential to reduce competition and duplication of resources at a time when the humanitarian needs are increasing rapidly.
ICRC President Mr Peter Maurer, Chair, said: "I am hearing different ideas of how to concretise the process and I am hearing a strong emphasis of the significance of National Societies partnering with others. This is an important step forward."
Migration: a new Call for Action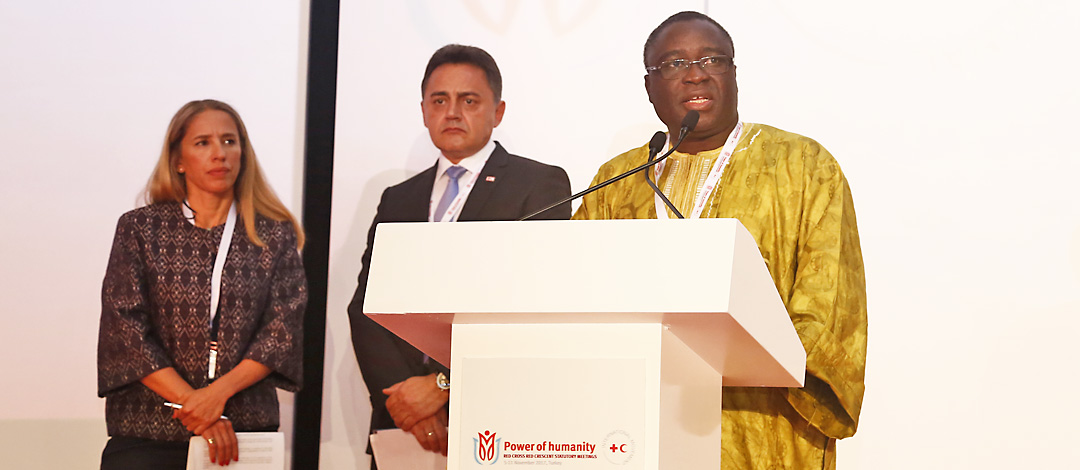 The Movement Call for Action on the humanitarian needs of vulnerable migrants has been endorsed by the Council of Delegates.
The Resolution was presented by Ms Florence Anselmo, ICRC's Deputy Head of Protection Division, and Dr Simon Missiri, IFRC Regional Director for Europe.
Addressing the Council of Delegates, Burkinabe Red Cross Society Secretary General Lazare Zoungrana said that his National Society was on the frontline of migration as a country of transit for both international and inter-regional migrants.
"We do our best to offer basic assistance, but we cannot satisfy all the needs of migrants, and this is where we call on governments to act on their responsibilities under international law," he said. "This is where our Call to Action is so relevant – governments must ensure they make this a higher priority.
"The global conversation about migration has been centred on Europe but it must include other perspectives. For a common commitment, we must use this Resolution well. It must advance the rights of all migrants, including those in Africa."
The Resolution was enthusiastically endorsed by the assembled delegates.
A Movement approach to maximising fundraising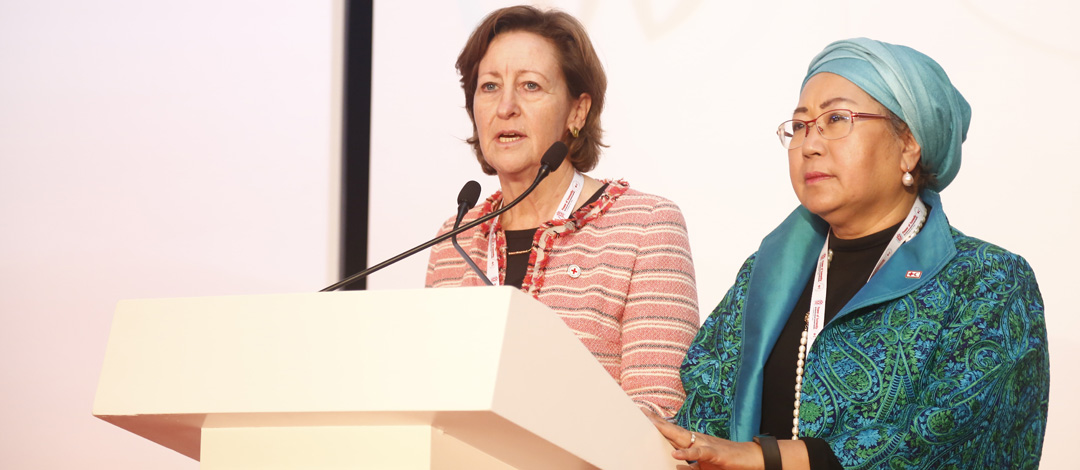 All Movement components now have "a great opportunity" to maximise their fundraising potential, after the adoption of a Resolution on Movement-wide Principles for Resource Mobilisation.
The Resolution was presented to the Council of Delegates by Dr Jemilah Mahmood, Under Secretary General for Partnerships at IFRC, and Helen Alderson, former ICRC Director of Financial Resources and Logistics, with contributions from Lebanese Red Cross Secretary General Georges Kettaneh and Bernt Apeland of Norwegian Red Cross.
Dr Mahmood told the delegates that the Movement must maximise the potential of strong National Societies to fundraise in their domestic markets. "We are facing a new world," she said. "We must now have courage to take the next steps together."
Ms Alderson highlighted the Resolution's forward-looking approach, noting that it underlines a critical need to go after data, and to invest in order to increase deliverables. "This [Resolution] is a real game changer and it is something we need," she said.
Mr Kettaneh spoke of how his National Society had transformed its approach from an "archaic system from the 1960s" into one that targets long-term sustainable donors. "Change is possible," he said. "But it takes leadership and it takes commitment."
Mr Apeland shared some insights from his time working outside the Movement, and noted that Red Cross and Red Crescent fundraising is falling behind and "stagnating" at best. "We are underperforming as a collective," he warned. "What matters now is what we do about it."
Delegates back renewed push to ban nuclear weapons
The Council of Delegates adopted a new Resolution and Plan of Action on working towards the elimination of nuclear weapons. More than 100 National Societies co-sponsored the Resolution.
Presenting it, Mr Tadateru Konoé, President of the Japanese Red Cross Society, said a world without nuclear weapons was both a duty and an imperative to preserve our humanity.
"It requires courage, commitment and concerted action. It's time to put humanity first by prohibiting and eliminating nuclear weapons," he said.
The new Plan of Action invites all components of the Movement to step up efforts over the next four years to ensure nuclear weapons are never used again and that they are prohibited and eliminated. This is in line with commitments made in Resolutions 1 of the 2011 and 2013 Council of Delegates.
The Resolution also recognised the efforts undertaken by the Movement in the historic adoption by 122 States on 7 July 2017 of the Treaty on the Prohibition of Nuclear Weapons.
"This resolution reflects just how far we have come since the 2011 Council of Delegates' landmark appeal," said Dr Helen Durham, ICRC Director of International Law and Policy. "Our collective efforts over the past seven years have shaped the narrative, leading to the historic adoption of the 2017 Treaty."
Resilience: a priority for today as well as tomorrow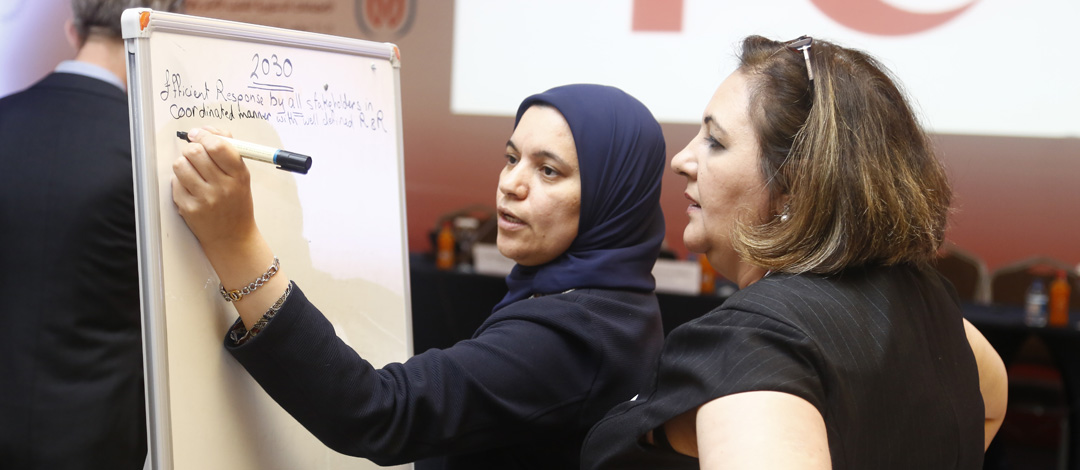 Opening the workshop "Setting the Resilience Agenda", Kiribati Red Cross President Mr Martin Tofinga laid to rest any notion that building resilience is mainly about preparing for future crises.
"For us, this is not about future threats but about the present," said Mr Tofinga, whose island nation faces an urgent existential challenge due to rising sea levels, as well increasingly intense storms and other issues largely caused by climate change.
"And we are not alone," he added. People around the world, he said, are already struggling to cope with an increasing number of weather-related disasters, which in turn exacerbate other chronic and often life-threatening challenges, from infectious disease to the rise of sexual violence during emergencies.
During the workshop, some 200 participants broke into small groups, discussed their own challenges, and then made numerous specific recommendations for new laws and policies at the national and global level to improve disaster response, first aid, gender and sexual violence prevention, and climate adaptation.
The recommendations will also guide the development of Resolutions for the next International Conference of the Red Cross and Red Crescent.
Waking the Red Giant: Movement communications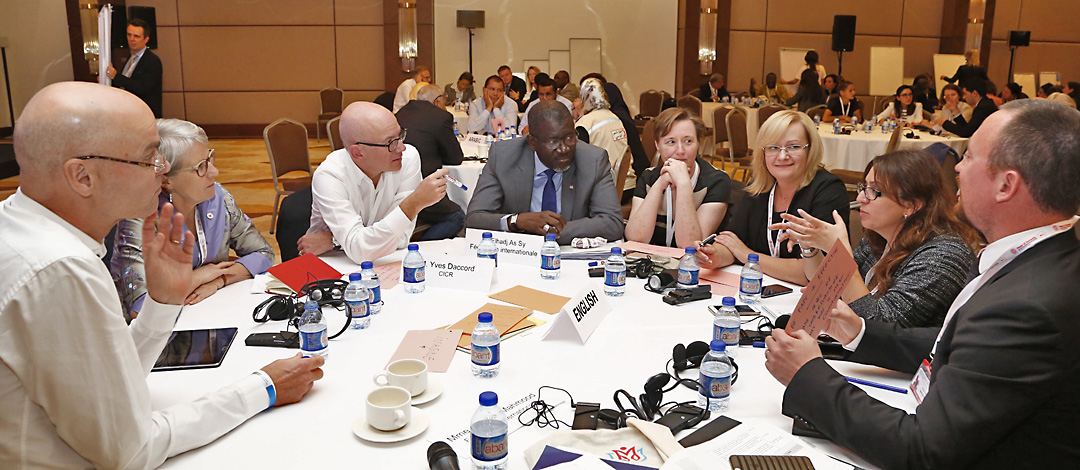 Elhadj As Sy (IFRC Secretary General) and Yves Daccord (ICRC Director General) opened the session by stressing the importance of engagement and trust.
Communication is engagement, is taking risks, is nurturing trust, they said.
The panelists surfed on that wave of trust, which was one of the main themes of the successful RC2 Forum held on 9 November.
Ben Lock, head of International Affairs of Edelman London, noted that trust in institutions has been falling for the past 17 years.
"In the 1990s communication was just spreading press releases all around, 'spraying pray' they called it." He warned that echo chambers are thickening the filters through which people receive information, and audiences need to be individually targeted.
Riyaad Minty, manager of Digital Strategy at TRTWorld, reminded participants of how indispensable storytelling is: "A blast in Afghanistan is not just another day for people there. You have to see the humans affected."
Empathy and selection are the ingredients of effective communication. "Communication is planting seeds," noted Judy Slatyer, CEO of the Australian Red Cross. "And it needs to be expertise-based."
Participants identified a number of improvements, including prioritizing communications in budgets, changing mindsets to create a culture of communications, and investing in skills and digital technology.
Engaging communities is crucial to effective localization of aid and not a nice-to-have. Rising to this challenge is not an option anymore. Via @alertnet #PowerOfHumanity http://tmsnrt.rs/2zKUsUj
Mental health needs of people affected by disasters and crises are major, but are often unaddressed. Psychosocial support interventions can be of great support to those dealing with tragedy and loss. #PowerOfHumanity
More than 680 stories have now been shared over SenseMaker.
What has surprised, delighted, or disappointed you so far during these Statutory Meetings? Share your experiences and add to this treasury of Red Cross and Red Crescent ideas and anecdotes. Go to https://goo.gl/yzsnQ7  or meet us at the stand "#itmakessense".