Sending a message to the World Humanitarian Summit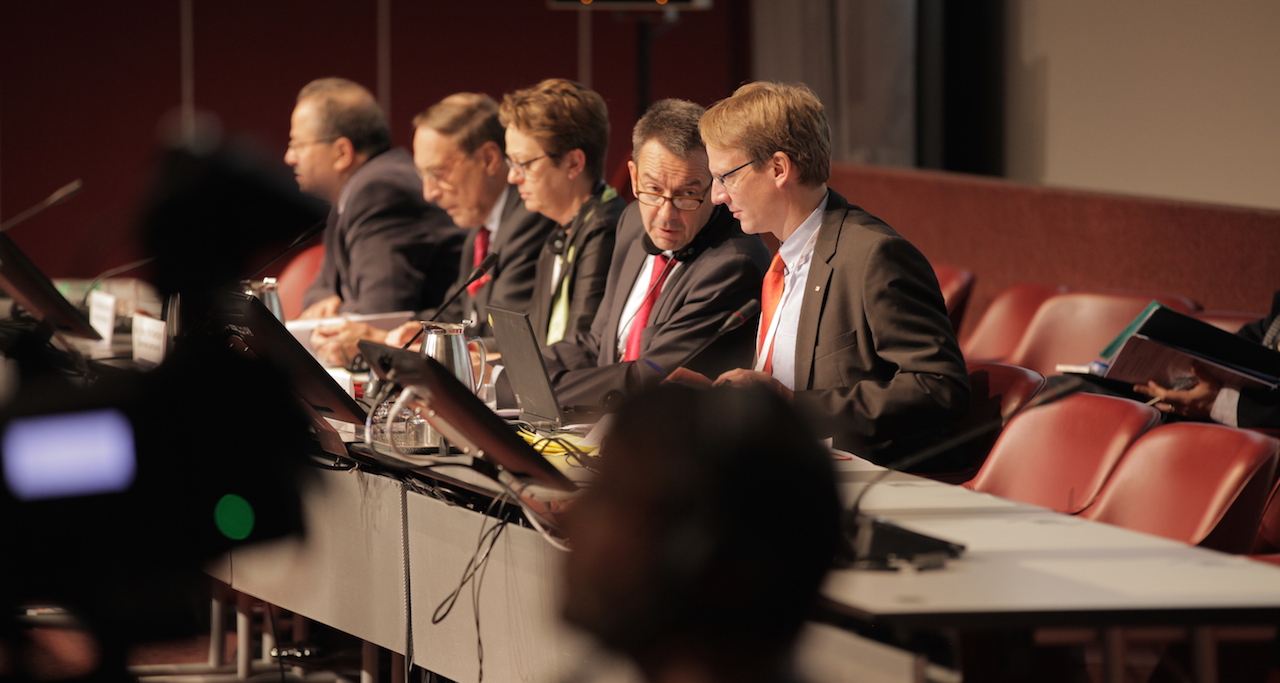 Recognizing the International Red Cross and Red Crescent Movement's unique position as the world's largest humanitarian organization, the Council of Delegates has adopted a message to send to the World Humanitarian Summit (WHS), via the International Federation of Red Cross and Red Crescent Societies and the International Committee of the Red Cross (ICRC).
The Movement message focuses on four key areas:
Protect the dignity of every human being and improve humanitarian access to those in need;

Affirm the complementarity of local, national and international action;

Take the long view of people's needs; and

Recognize and enable different humanitarian systems.
Representatives from National Societies, in endorsing the message, pointed out that Red Cross and Red Crescent staff and volunteers always respond, regardless of whether an emergency makes it into the media headlines. As such, it is fundamentally important that they be supported as key front line first responders to crises, and this is a message that should be taken to the WHS. "But it is not enough to go to the Summit with broad statements," said Mike Adamson, Chief Executive Officer, British Red Cross. "Rather we must go with a clear vision for what we want our Governments to do. And we must go with a compelling case for investment."
Key components of the Movement message include asking the WHS to achieve clear commitments on respect for human dignity and people's assistance and protection in disaster, armed conflict and other emergencies. It requests the WHS to encourage governments to increase their capacity to ensure humanitarian response and respect international law, and to deliver significant change in the effectiveness of local humanitarian response while respecting a complementary balance between local, national and international actors.
"In West Africa, well before the world woke up to the true nature of the Ebola threat, local health workers and affected communities were treating and isolating the sick, and burying the dead. In Syria, Red Crescent staff and volunteers have continued to carry out humanitarian operations in extremely challenging conditions and at great personal risk," the message states.
The WHS will be held in Istanbul, Turkey in May 2016. You can read the full Movement message here.
Red Cross and Red Crescent adopts first Movement-wide logo
For the first time in its 150-year-plus history, the International Red Cross and Red Crescent Movement has approved a Movement-wide logo representing all its components — National Societies, the ICRC, and the International Federation of Red Cross and Red Crescent Societies.
The new logo — a red cross and a red crescent partially encircled by the words 'International Movement' — does not in any way replace existing logos and emblems. Rather, it is to be used exceptionally, primarily for Movement campaigns, joint statements, digital platforms, and other materials on matters of global concern or interest to National Societies, the ICRC and the International Federation. Examples could include World Red Cross Red Crescent Day, the Health Care in Danger campaign, and major fundraising campaigns with external partners.
As the world becomes increasingly connected globally, mainly through social media and the internet, the need for one global logo representing the entirety of the Movement has become clear, and this was a point raised by several delegates. 
"Thirty years ago, global digital marketing campaigns were simply not possible but the world has moved on and we too must move on," said Robert Tickner, the International Federation's interim Under Secretary General for Partnerships, speaking on behalf of the resolution.
A delegate from the Azerbaijan Red Crescent Society also spoke in support.  "No other worldwide humanitarian organization has as many different logos as we have," he said. "This can create confusion among [donors] as well as in social media."
While most speakers supported the resolution, others expressed concerns about the proposed design of the logo, the process for approving the use, access to donor data among other issues.
The Council passed  the resolution on Movement branding and the concerns expressed by some delegations will be further explored in the lead up to the next Council of Delegates in 2017.
"The new Movement logo will be used in exceptional circumstances, for Movement representation, communication, promotion and fundraising in situations of global interest where a collective of Movement components, including the International Federation and the ICRC, are involved," explained Charlotte Lindsey Curtet, ICRC's Director for Communication and Information Management. It may also be used for Movement promotion and fundraising for a general theme, campaign or event, that may also include sponsorship from, or partnership with, an external partner.
There are numerous restrictions on the use of the new logo and each use must be approved. They cannot not be used as a substitute for an individual logo of a Movement component or to represent a regional grouping of National Societies. Nor should the logo be used in an operational response or context, in any way that might cause confusion with the protective use of the red cross and red crescent emblems.
Magen David Adom in Israel and Palestine Red Crescent Society reconfirm their commitment to cooperate
The Council of Delegates adopted a resolution on the implementation of the Memorandum of Understanding between Magen David Adom in Israel (MDA)  and the Palestine Red Crescent Society (PRCS) by consensus amidst a consolatory atmosphere.  Moamena Kamel, Secretary General of Egyptian Red Crescent Society detailed the draft resolution on the Implementation of Memorandum Understanding and Agreement on Operational Arrangements dated 28 November 2005 between MDA and PRCS. Dr. Noam Yifrach, Chairman of the Board at MDA Israel and Dr. Younis Al-Khatib, President of the PRCS addressed the floor, both recognizing the efforts of each other's Societies and reiterated their joint commitment to helping those in need without any hesitation.
Dr. Younis shared a quick personal anecdote, explaining that beyond his own family, his "other" family was the wider Red Cross and Red Crescent family.  He shared his excitement about the imminent arrival his first grandchild and linked this to his hopes that his and other Red Cross and Red Crescent children would be proud of the current efforts to build a more peaceful region – "a region where peace, harmony and love prevailed".
Both sides recognized the efforts and work of each other's National Society and confirmed their commitment to cooperate as they implement the MoU.
Strengthening the Coordination and Cooperation of Movement partners
The Council of Delegates passed on 7 December two resolutions paving the way for greater coordination and collaboration between International Red Cross and Red Crescent Movement partners.
The resolution on Strengthening Movement Coordination and Cooperation (SMCC) was the result of a two-year process led by the International Federation and the ICRC, building on Resolution 4 passed at the 31st Council of Delegates calling on recommendations for improvement in Movement coordination. Based on a world-wide consultation process involving more than 140 National Societies, the SMCC report presented concrete findings and recommendations in four main areas of work: leadership and coordination, operational tools and mechanisms,  communication and resource mobilization. This Resolution endorsed the accompanying plan of action to implement a number of action points over the next two years, reporting back to the next Council of Delegates in 2017.
Following up on Resolution 2 of the 2013 Council of Delegates, the Council of Delegates adopted the Vision Statement of the Movement, as presented by the Standing Commission. The Vision Statement provides a collective strategic direction for all the components of the Movement in response to an increasingly demanding and fast-evolving global context.
In a positive cooperative and collaborative spirit, various National Societies expressed enthusiasm regarding improvements in Movement coordination, and called for greater recognition of the central role of the host National Society in an emergency response.
Volunteer profile
"I will be a volunteer forever"
At 24 years of age, Hajar Bendary represents the future of the Egyptian Red Crescent Society. Young and vibrant, she is fiercely proud to be a volunteer with her National Society.
"It's a feeling that you are not alone in this world; that you are living not just for yourself," she said emphatically. "We are all brothers and sisters. Despite our geographical borders, we all have something in common."
Hajar believes this commonality lies in our collective obligation to help others in need. In Egypt, a country steeped in tradition, history and, in recent years, turmoil, the "concept of volunteerism is not strong," said Hajar. "It is our job, as volunteers, to raise awareness, to encourage others to give of their time to something that is bigger than they." Hajar is doing her part. Since joining as a volunteer seven years ago, she has successfully recruited ten friends to join her in helping humanity.
Her motivation for becoming a volunteer was based in her love of travel; she initially envisioned flying off to exotic destinations to help the world's most vulnerable people. However, that quickly changed as she learned more about the Red Crescent and everything it strives to do to help ease the pain and suffering of others within her own country. She became a member of the Emergency Action Team, which not only provides first aid, but also trains other volunteers and the general public on evacuations, safe access and safer exits.
"I know I will be a volunteer forever," said Hajar. "Anywhere I will be, I will be a volunteer."
You can meet Hajar and her colleagues, and representatives of many other National Societies, in the Humanitarian Village on the lower level of the CICG.
Side event
Safer Access Art Competition: Cast your vote!
15 National Societies from around the world have submitted artwork to the Safer Access art competition, depicting what Safer Access means to them and the communities they serve. To view the artwork and cast your vote for your favourite piece, please visit the Safer Access stand in the Humanitarian Village (lower level of the CICG). We will tabulate the votes and announce the winning artists on December 9th at 3:45 p.m.
Want to show your artistic side? Join us Tuesday, December 8th from 1 p.m. to 6 p.m. at the Safer access stand where National Societies will be asked "What does Safer Access mean to them and the people they serve" while an artist draws the replies!
Volunteer profile
Rosario Fernandez: 43 years of volunteering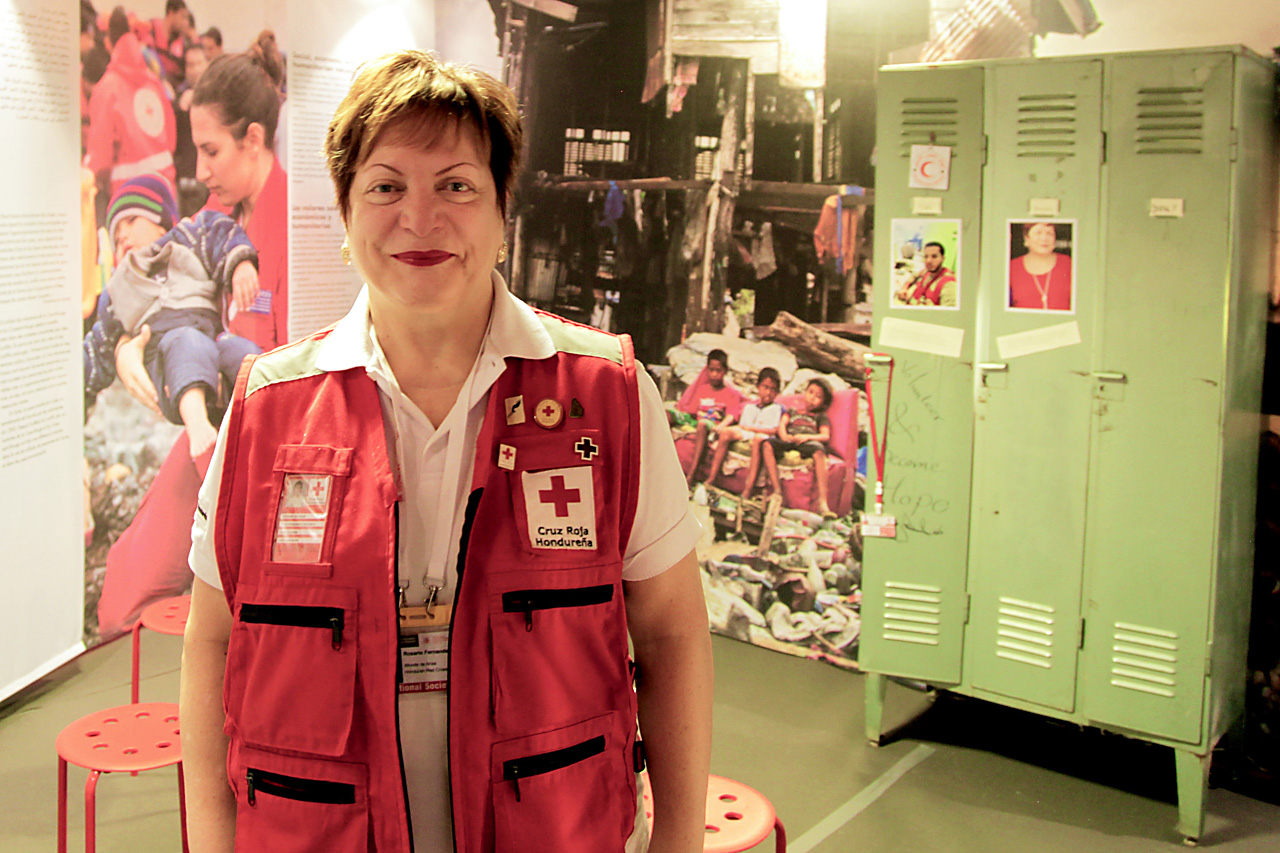 For 43 years, Rosario Fernandez, a Honduras Red Cross volunteer with a warm smile, has spent countless hours providing humanitarian relief to those in need. Even when rain floods the streets, or violence is everywhere, Rosario is on duty: "is my passion, it is a moral mandate that I have."
In these long years of volunteer work, Rosario has seen everything – from the destruction left in 1998 by Hurricane Mitch, to the aftermath of a terrible revolt in one of Honduras' prisons, which left 300 prisoners dead.
In the past 20 years Honduras has experienced a number of social challenges. The World Health Organization has classified it as the most violent country in the Americas, with 103.9 deaths per 100,000 inhabitants. Rosario's biggest concern is for the effect on the country's youth: "Young people are not seeing any other future than to become part of a gang. We have an obligation to show them other ways, and for me that is my Red Cross mission."
Rosario's family has accepted her vocation, to the point that her children are now also Red Cross volunteers. "Friends are my challenge – they ask me, 'why are you doing this?' And I said, because it is my passion. I feel confident because I wear my Red Cross everywhere.
"For as long as I can, I will volunteer, she said, with tears in her eyes. "Undoubtedly, I receive more than I give."
Rosario and fellow volunteers are on duty at the Volunteering in Conflict and Emergencies exhibition on the 2nd floor of the Humanitarian Village.
News in brief
Disability inclusion
The Council of Delegates has adopted a Resolution concerning the Movement-wide Strategic Framework on Disability Inclusion, which aims to ensure that all persons with disabilities have equal access to the services and programmes the Movement provides. The Council hopes to have a progress report detailing the achievements of the framework by 2017, and further hopes to have a final report for the Council of Delegates in 2019.
The Empress Shōken Fund was established in 1912 by Her late Majesty the Empress of Japan in support of Red Cross and Red Crescent work in the areas of of disaster preparedness, health, youth, blood, first aid and the dissemination of humanitarian ideals of the Movement. The Council of Delegates has adopted a Resolution suggesting adjustments to the fund's regulations, to improve the fund's financial situation following losses incurred in 2008.