Legal and normative frameworks can and should effectively make communities safer from disasters and emergencies. In this regard, the Conference :
decided on measures to speed progress in the development of laws and procedures for effectively managing international disaster response;
adopted a new tool for fully understanding and strengthening the many parts of national legal frameworks that are critical for reducing disaster risks and building resilience; and
promoted laws that are supportive of first aid training and delivery.
Concerning regulation of international disaster response, the Conference promoted measures to speed progress in preparedness for the facilitation and regulation of international disaster response (known as IDRL). While much progress has been made the great majority of countries are still without the procedures necessary to ensure effective cooperation.  As a result, operations have continued to be affected by bottlenecks in the entry of relief goods and personnel as well as gaps in competency, quality and coordination. National Societies and their International Federation have provided technical assistance to authorities in over 40 countries, generating consensus approaches to strengthening national procedures.
Concerning disaster risk reduction, the Conference advanced the work it launched in 2011 on effective legislation for disaster risk reduction (DRR). The Conference acknowledged that gaps remain in the scope and implementation of laws critical to the safety and resilience of communities.  The International Federation and UNDP have collaborated in study of legislation concerning DRR in 31 countries – the results include examples of good practice as well as illuminating the dynamics which lead to legal problems.
The post-2015 framework for disaster risk reduction adopted at the World Conference for Disaster Risk Reduction in March 2015 underlines the importance of strengthening regulatory frameworks.  In support of this the International Federation and UNDP are completing a "Checklist for law and disaster risk reduction" as a practical tool.
Legislation for first aid training is essential to ensure that large parts of the population are properly trained and willing to provide assistance in an emergency. Unfortunately, many governments often do not see first aid as a political priority. School curricula are already overloaded. Driving licenses are costly enough. This point of view overlooks the fact that first aid and education is cost-effective as first aid can save not only lives but money, by reducing the cost of medical treatment.
Against this background, Conference agreed to promote regularly and mandatory first aid education and enhancing official national standards for the quality/content of first aid training programmes.
What conclusions did the 32nd International Conference reach on this subject?

Some of the actions to be taken in the next four years, following the 32nd IC, are listed below: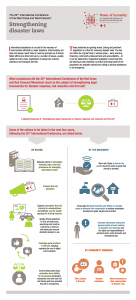 For more information on disaster law:  http://www.ifrc.org/en/what-we-do/disaster-law.